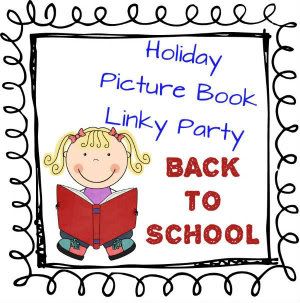 I love books--so when I saw this linky party--I had to join! When I first starting blogging, I
shared
my favorite resources for finding great books. Now I can add another resource--this linky party!
The Kissing Hand, by Audrey Penn
I am sure this is on every linky party--but it is such a sweet story. I think we could all use a kissing hand as we venture into a new experience!
Cleversticks, by Bernard Ashley
I love Cleversticks, by Bernard Ashley. This little boy goes to school, and notices that other students color better, write better, even read better. Then one day, he eats with his chopsticks. No one else can eat with chopsticks! Doesn't every child have their own unique gift and talent! I think it would be fun to notice different children's talents and gifts they bring to the classroom! They could be written on chopsticks and taken home!
Recess at 20 Below, by Cindy Lou Aillaud
Recess at 20 Below, is a fun book about students playing outside during recess in Alaska. I don't know what the rules are in your district, but if it is under 20 degrees above zero, our kids stay inside. I think it would be a great book to read even though it is still warm outside!
Panda Kindergarten, by Joanne Ryder
Panda Kindergarten is such a fun book! These pandas have recess, lunch, and even time to learn! The photographs are amazing. It is such a great way to work a nonfiction book into the classroom!
Scaredy Squirrel, by Melanie Watt
Who doesn't love Scaredy Squirrel. He always plays dead in every book!
Museum Colors, Museum 123, Museum ABC Museum Shapes
I love art! My undergraduate degree was in Humanities, with an emphasis in Art History. The books are beautiful, well written, and very cool!