This is the first time for Farley's Currently! Every time I see a mustache, I think of her!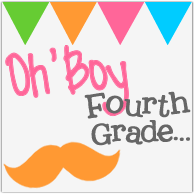 The Winner of my Susan Salidor Giveaway is
Jill at www.bubbalulu.blogspot.com
Thanks for being a follower and I will contact you soon about sending you the CD!
I received my first nomination!!!
I am tweaking the rules a bit--but isn't that what teacher's do, they tweak thing to make it fit their teaching style! I am tweaking it to fit my blogging style!
First, I want to thank Mrs. D for nominating me! She has a great blog with all sorts of tips! I especially enjoyed her post on Tagxedo! Her tutorial is well-written and helpful! So thank your for the nomination!

Now for the rules of the giveaway!
1. Thank the blogger who nominated you. Thank you Miss D!!!!
2. Include a link to their site. You can click on her button!!!
3. Include the award image in your post. Done!!!
4. Give 5 random facts about yourself. (I changed it from 7 to 5.)
5. Nominate 3 other bloggers for the award. (That's another rule I changed.)
6. When nominated, include a link to their site.
7. Let other bloggers know they've been nominated.
Now for five random facts:
1. I can touch my nose with my tongue--cool!
2. I graduated with my undergraduate degree in Humanities, then taught computer classes in college! When people asked me, "What are you going to do with your degree?" I wished I had told them, I am going to teach computer classes. I now have a Masters in Teaching--and love working with children.
3. I lived in Belgium for 16 months, and learned to speak Flemish. I can still order Frites (fries) in Flemish and loved living there! They have the best fries and chocolate in the world!
4. I can parallel park on both sides of the street.
5. My favorite big cities are Antwerp, Paris, London, New York City, and Chicago.
Now for the nominations:
She was one of my earliest followers! She teaches gifted kindergarten, and she inspired me to read The Wizard of OZ. I love her blog and her thoughts!
She has a great blog as well--and she is currently hosting an awesome giveaway for a Hollywood Packet!

She is has a great freebie from her TPT store!
You may have noticed--I am getting really close to 100 followers. If anyone would like to donate items for the giveaway, just email me at: ateacherwithoutaclass@gmail.com.