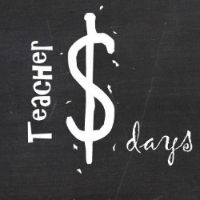 I wanted to feature one of my favorite apps that is only 99 cents--less than a dollar! Drum roll please:
Stack the States App
Stack the States by Dan Russell-Pinson
My boys love to play this app right next to our United States Map. I love seeing them fully engaged in connecting with the map and the app. The graphics are engaging, and the games are fun as well. I love trying make the states stack correctly. It's hard to balance the odd shapes of the states in the US. The biggest states help you to cross the line faster, but they can also be the oddest shaped states: Alaska and Texas.
The app states a question: an example: Which state is Idaho?
As you can see the states are given animation and scaled to size. It is really fun! Find a full description
here
.
Last week I loved how
A Little Red Wagon
brightened up her purse with a dollar item from the jewelry store. She used this necklace to make a brand new handle for her purse! Genius!
The rules of the linky:
Post any item that you have made using a dollar item. Find a wonderful dollar bow that you add to your wreath it counts!
Feature any item that you sell for a dollar. Even if it is 1.99--you can count it! Please link up to a blog post, not your store!
Feature an item that someone else is selling for a dollar. Please share the great things you find!
Feature us the great things you find: either from a dollar store or dollar spot! I am terrible at finding great deals so this will help me tremendously!
Feature items that you love for a dollar! My personal favorite is a diet coke from McDonalds!
You can feature as many dollar items as you wish!
I'll be hosting the linky every week--and featuring my favorites from the previous week!
Again post anything you love, find, sell, or make with dollar items!